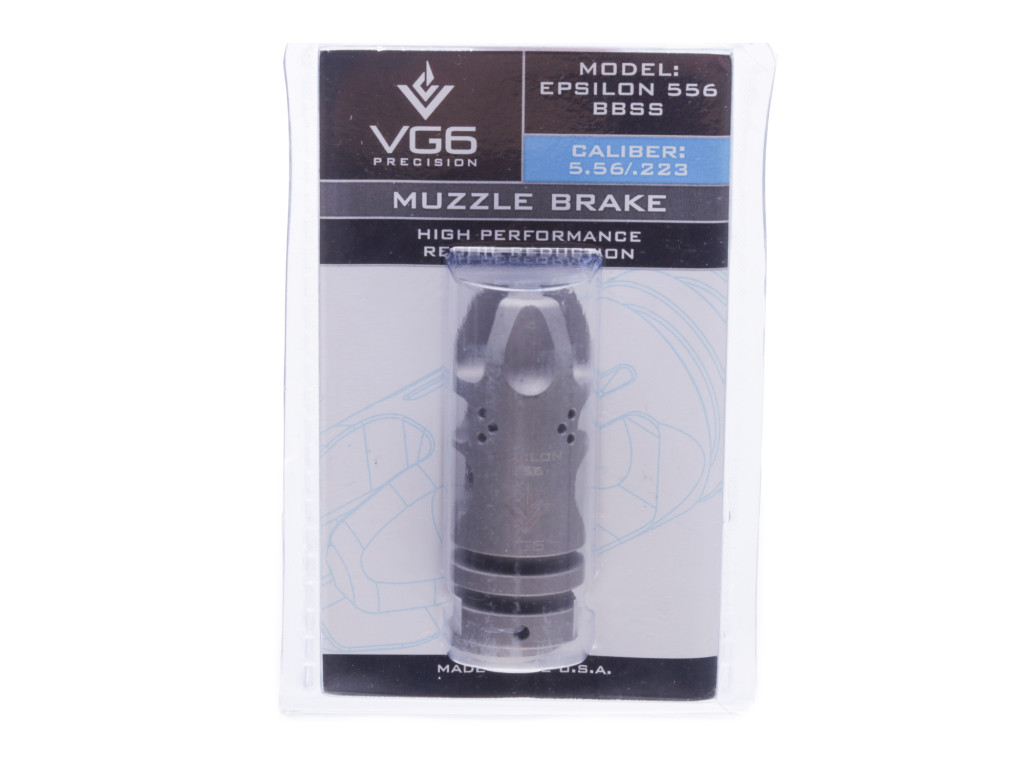 The VG6 EPSILON 556 is the pinnacle of AR15 muzzle devices. The EPSILON 556 just outperforms everything on the market.

Designed for the discriminating shooter and professional end-users, VG6 Precision's EPSILON 556 affords you the best muzzle control and recoil mitigation the industry has to offer. This is a true combination muzzle brake/compensator/flash hider. Its performance is matched only by the amazing look of this device.

The VG6 Epsilon 556 carries many of the same characteristics as the Gamma 556 with a few exceptions. Extended flash hiding prongs and no ports at the 12 o'clock positions allow uninhibited view from flash through optics or sights. The difference in porting is also noticed on the underside of the device where it has 6 valve holes to allow the fastest gasses reaching the second chamber to exit. This creates a very soft low energy recoil that allows for absolute control.

Features:

* Material: 17-4ph® Heat Treated Stainless Steel
* Finish: BLACKNITRIDE™
* Surface Hardness: 68RC
* Caliber: 5.56mm/.223 Remington/.224 Valkyrie only
* Thread: 1/2-28 RH
* Weight: 2.5oz
* Includes crush washer

Specs:
Made In America: Yes
Finish": Black Nitride
Platform: AR15
Manufacturer": VG6 Precision
Weight (oz): 2.5oz
Other Features: Length: 2.21"
VG6 Precision Epsilon, 5.56/.223, BBSS, Silver, Muzzle Brake